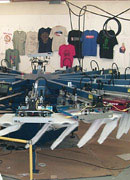 Our company:
Provides the best quality screenprinted products and the most reliable service.
Provides quick turnaround time.
Is equipped with top of the line automatic and manual presses; One of our newest addition include the M&R Gauntlet II automatic 12-color 14-station textile printer.
Has the capability of printing up to 800 shirts per hour using up to 12 colors.
Offers the most competitive prices in the screen printing industry.
Has full in-house art department and production.
Can create custom logos and designs or just help with ideas.
Uses high tech computers to design and process art work.
Uses the latest version of CorelDraw, Photoshop, Adobe Illustrator.
Offers the widest variety of Sportswear and Promotional Products.
Resellers use our contract screen printing services with confidence.
Our guarantee:
FREE Art for any of the designs/images we provide!
FREE film charges!
FREE ink color changes!
FREE screen setup charges on all reorders within 3 years (same print design required)
We MATCH or BEAT any written quote!



View PMS colors used for printing.

Please contact us or use our on-line request form to receive a free quote.
Art Information:
Art charges applies for screen printing orders where custom art work is needed ($75 per hour). We accept Camera-Ready Artwork in the following formats: *.cdr, *.eps, *.psd, *.pcx, *.bmp, *.gif, *.jpeg, *.tif.

Please convert any font style into curves or provide the specific font files.

Art charges will apply for designs sent in the following formats: fax, photocopies, business card, low resolution e-mail file or other imprinted items.

We always send art via e-mail or fax for approval before beginning screen printing production.
Screen Printing
One time screen setup charge for all new orders:
$25 / color for large screen design (6"-17")
$15 / color for small screen design (up to 6")
Minimum Order for Screen Printing:
Screen Printing requires a minimum of 3 dozen items per screen design.
Garments can be mixed colors and sizes as long as the design is the same on all of the order.

View SPECIALS page for specific decorated garment pricing information.